Our Story...
Sometimes music lovers follow their hearts and become full-time musicians.  Sometimes, they follow a different current, waiting for the day when music can take its rightful place in their lives.  This is the story of Chisman Creek Band, music lovers who became military members, medical professionals, teachers, shipbuilders, and realtors.  Then, one day, Chisman Creek Band was born and their dreams of performing music became a reality.  

From the beginning, they wanted to combine their talents and imaginations to cross musical styles and tastes.  They would uniquely blend country, classic  rock, and modern hits with a touch of bluegrass and quality original creations, and leave audiences mesmerized by their amazing three-part harmonies.  Now, Chisman Creek Band provides an impressive, steady stream of good music and overflowing enjoyment for their audiences across the Hampton Roads area of Virginia and beyond.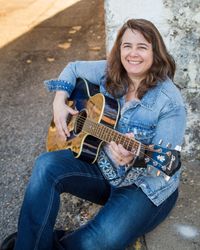 Angie Francis
Rhythm Guitar and Booking Manager
A native of Hampton Roads, Angie started playing guitar when she was ten years old.  She says her musical style was inspired by the bluegrass and fiddle tunes she learned from one of her early music teachers, and from listening to The Kingston Trio and playing along with their records.  She still loves to play in that style, and can pick a mean version of "Wild Wood Flower," along with other traditional favorites.  In high school, Angie played guitar during club meetings for Youth for Christ Campus Life, and still enjoys playing for women's events at her church.  With a flair for organization, Angie also handles the arrangements for most of CCB's bookings.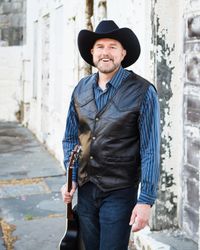 John Leist
Lead Guitar and Vocals  
Born in Louisville, Kentucky, John grew up as an Air Force "brat".  Beginning in high school in Bitburg Germany, he played in several bands, and continued to enjoy playing many varieties of music throughout his own nine military assignments, which took him to Asia twice, Europe, Africa, Central America, the Middle East, and both coasts.  His passions include church, travel, hunting, scuba diving with his brothers, motorcycles, playing guitar, singing, snow/water skiing, and competitive racing/sailing. John is a retired Air Force Oral Surgeon who currently continues his practice locally.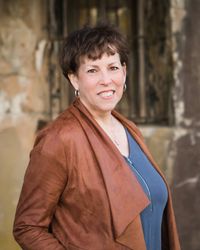 Judy Wiseman
Vocals,  Rhythm, and Other Stuff
Also from Kentucky, Judy is rooted in music and story-telling.  Some of her favorite memories are of family reunions where nearly everyone sang and played gospel, country, and bluegrass music, passing around harmonies and instruments like most people pass plates around the dinner table, and of her parents recounting the antics and experiences of growing up in Appalachia.  Prior to marrying her career-Army husband, John, Judy sang with two bands, and throughout the couple's many moves, music remained an integral part of her life.  She loves adding to Chisman Creek Band's tight three-part harmony and percussion, and playing, pennywhistle, flute, and guitar.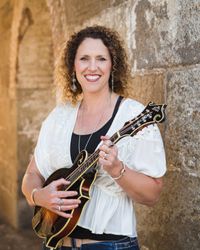 Crystal Walters
Vocals and Mandolin
Crystal performed her first solo in the sixth grade at Rural Point Elementary, and since then, has looked for any opportunity to sing.  She grew up listening to  to pop, rock, country, gospel, and contemporary Christian, and became interested in bluegrass while at Appalachian State.  There, she also performed with a traveling evangelism team called "Witness", learning so much from the talented musicians she met through that ministry. Now that her three amazing children are getting older, she loves performing with CCB, and has even been inspired to take up the mandolin.  A realtor in Hampton Roads, Crystal also enjoys spending time with her family and friends, and anything related to salt water.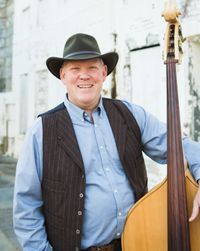 Jim Wenschlag
Upright Bass (and occasionally, Electric Bass)
A Los Angeles native, Jim became interested in music in third grade when his parents sent him to accordion lessons, which soon inspired him to also take up guitar.  Commissioned in the U.S. Air Force, Jim has visited many interesting places and met many amazing people.  While stationed in Germany, he played in a classic rock band, Wire-to-Wire, and he has served in several worship bands.  When he arrived in Virginia, his church had no bassist; the rest, as they say, is history.  After playing electric bass, Jim fell in love with the low end.  He saved his pennies, and with a boost from his biggest fan, his wife, bought the upright bass he plays today. Jim feels blessed to share his passion for music through CCB.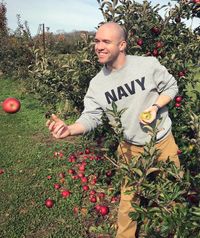 Brendan Butler
Percussion and More
A multi-instrumentalist, songwriter, and producer, Brendan has been making music since his formative years.  After ten years in the Navy, he made a jump to the Army; shortly thereafter, he moved to Virginia and Crystal brought into the CCB fold. Besides his primary duties as percussionist, Brendan also brings to the mix his talents on guitar, mandolin, banjo, and composition and arranging, helping to build CCB's signature sound.  Brendan is a native of Ridgefield, Connecticut, and a Warrant Officer in the Army watercraft field.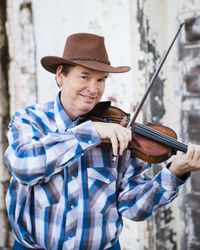 Dean Shostak
Fiddle
Dean considers himself as lucky to have always made a living as a musician.  Hired as a fiddler for Colonial Williamsburg at age fourteen, Dean played two seasons in the Country Show at Busch Gardens before graduating high school.  Majoring in music in college, he paid his way through school playing anywhere and everywhere for tuition, rent, and food. After college, he returned to Williamsburg to play fiddle and to revive the lost art of playing the historical instrument, the Glass Armonica, invented by Benjamin Franklin.  While enjoying continued success in his solo career, Dean enjoys playing some different styles of music with CCB when he's available.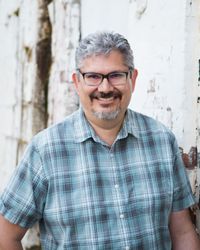 Kevin Francis
Sound Engineer and Business Manager 
Kevin became interested in the art of sound  when he started working his church's sound board in 2002.  The formation of Chisman Creek Band gave him an opportunity to further apply the skills he'd learned, and to use some of the equipment he'd collected over the years.  Kevin has since upgraded CCB's sound into an efficient digital footprint, ensuring that the band's harmonies and instruments are effectively heard and enjoyed by their audiences.  Learning to setup and tear down the stage and to mix sound also inspired Kevin to make some music of his own, so now he's learning to play the ukulele and mandolin.  A native of Hawaii, Kevin also handles much of the band's business activities.
Promotional photos courtesy of Danielle Jackson Photography, www.danielles-photography.com